Cultural Mission: Met's Islamic Galleries Receive Help From State Dept.
Now this is what I call help in getting attendance: The U.S. State Department is publicizing the new Islamic Art galleries at the Metropolitan Museum — all over the world.
I found that out when I looked to see what kind of press the Islamic galleries were getting around the world, particularly in the Islamic world. I was curious, because it seems to me that we do care about how "they" perceive us.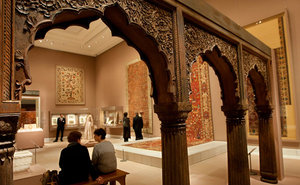 Many publications in the Mideast that have English-language versions online seemed to have ignored the galleries. I found almost nothing in the Egyptian press, just this preview in Al-Ahram. The Turkish Press used an AFP wire story and All-Africa.com also did a straight story, pretty much a rewrite of the press release. The Voice of America also covered the new galleries, rather perfunctorily.
It was only a Pakistani newspaper, The Nation, that turned up something new. It published a short article on the galleries in Tuesday's paper. Mostly, it was straight reporting, describing the size, cost, and items in the new galleries, and saying they will "ultimately lead to better understanding of Islamic art and culture."
But then it contained this paragraph:
Acting Under Secretary for Public Affairs Ann Stock termed it once-in-a-generation event in history of Islamic art that mark a new era in the Metropolitan museum's global reach. She said 271 embassies and consulates, 25 of them in the Arab world, will display posters of exhibit highlights in their public spaces and online. The 14.5 million visitors to U.S consular and social spaces every year will see video tours of the galleries and interviews with the curators and conservators. 
Boldface mine.
Good for the Pakistanis. I'm not against this, but I do think it's an interesting move on the part of State. It's certainly a win for the Met (which, you'll remember, also received for its Alexander McQueen exhibition earlier this year — from airline pilots landing at JFK, who touted the show to passengers.)
And, Stock (@AnnatState) tweeted about them on Oct. 28: "A Cosmopolitan Trove of Exotic Beauty, @MetMuseum's Islamic Galleries Open 11/1. Saw them on Monday- a true treat:http://ow.ly/7c2cf"
It might make some people uncomfortable to see museums "used" this way. But think of the way The Economist put it in its article on the galleries, which ended on this happy note:
The Met's Islamic galleries offer a grand voyage to faraway times and places, and an eye-opening display of art. If these rooms do anything to replace fear and suspicion about Islam with a sense of wonder and curiosity, then there is all the more reason to celebrate.
That's rather the way I feel.
Photo Credit: Courtesy of The New York Times