Still On The Block Tonight, And The Deaccessioning Still Keeps Coming
Tonight all eyes will be on the sale of contemporary art at Sotheby's, which needs to score as well, or better, as Christie's did last night: 
$247.6 million in sales, with 90% of the lots sold
.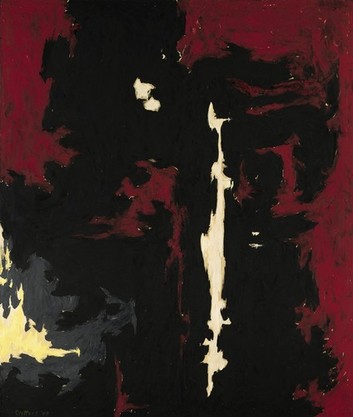 People will also be watching to see who bids on the four paintings being sold by the city of Denver and the Clyfford Still Museum — one of the last chances to buy his works — and for  how much. Just as Christie's front-end loaded its sales last night with works from the collection of Peter Norton, building excitement in the room, so Sotheby's has scheduled the Still paintings for lots 11 through 14 of a 76-lot sale.
If the four achieve their top estimates, they'll yield $71.5 million — the painting at left's upper estimate is $25 million.
But it's hard to tell what the museum will get, because it negotiated a $25 million guarantee from Sotheby's. That means it has to split the upside with the auction house if the total goes higher, but I don't know the percentage split. I'm not sure I would have done that, but we'll see tonight.
(See more about those Still works here, on YouTube, a preview by Anthony Grant.)
Meanwhile, back at Christie's, the deaccessioning continues on November 22, at its The Gilded Age: 500 Years: Decorative Arts Europe. I've already mentioned that the Cleveland Museum of Art announced that it will be selling 24 sculptures in the sale, but that's not the half of it.
That sale will offer art works from "more than a dozen of America"s most-respected museums, including the Art Institute of Chicago; the Cleveland Museum of Art; the Corcoran Gallery of Art; the Harvard Art Museums; the Huntington Library, Art Collections, and Botanical Gardens; the Minneapolis Institute of Arts; the North Carolina Museum of Art; Louisville"s Speed Art Museum; and Hartford"s Wadsworth Atheneum," Christie's was pleased to say.
The Huntington, for example, is selling 26 items, including "an assembled George II carved pine room, circa 1730 and later….This impressive room was acquired by Florence M. Quinn on behalf of the Huntington in order to display the collection of English furniture she donated to the museum, and was on public view from 1944-2005. Estimate: $40,000 to $60,000.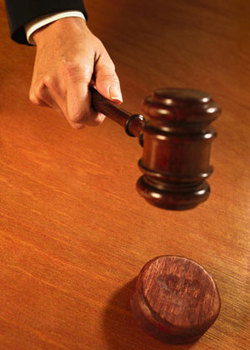 The MIA is also selling a room — "a Louis XVI pale-green and parcel-gilt paneled room circa 1780 and later … Like so many period rooms acquired in the early 20th century, it creates a striking, harmonious whole with its elegant à l'antique plaster lunettes of Bacchic festivities and crisply carved details. Estimate: $50,000 to $100,000.
The Speed is deaccessioning nearly 50 items, including "a splendid commode, circa 1700, with rich marquetry ornamentation of flower-filled vases, rinceaux scrolling foliage and bearded
grotesques, in the fashion of the Louis XIV period for "painting in wood" through marquetry. Estimate: $40,000-60,000. And, "a pair of monumental (12-ft. tall) south European gilded wooden Solomonic columns from the late 17th/early 18th century, ornately covered with training grapevines." Estimate: $10,000-20,000.
The Corcoran is selling 20 pieces of Italian Renaissance maiolica, given by U.S. Senator William Andrews Clark, Sr. upon his death in 1925, part of 120 pieces and the rest of the contents of his Fifth Ave. mansion, which contained "more than 100 rooms filled with paintings, sculpture, tapestries and other European works of art." Each has a separate estimate, with one flask pegged at $40,000 to $60,000.
Those are just examples; who knows what else is for sale from these deaccessions, without perusing the catalogues? There are 403 lots. Helpfully, Christie's has gathered them together in the catalogue and listed each museum in its table of contents.
My point, as always, is not that nothing should be deaccessioned, but that items to be sold should be announced by the museum in advance.
Article Source: Real Clear Arts, Judith H. Dobrzynski on Culture, http://www.artsjournal.com/realcleararts/2011/11/more-deaccessioning.html