Wedgwood Museum closure condemned by Unesco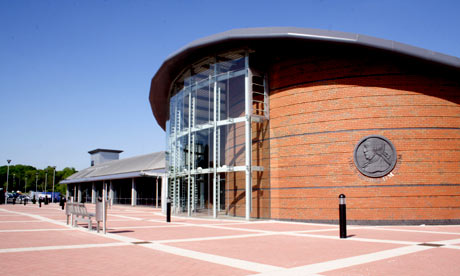 The Wedgwood Museum is one of just 20 items on Unesco's Memory of the World register. Photograph: Getty Images
The head of a Unesco committee that shortlisted a British museum as one of the UK's top 20 cultural assets has condemned a high court judgment that is forcing it to close.
The Wedgwood Museum in Stoke-on-Trent is to be broken up and sold to pay off a £134m pension deficit, following a high court judgment in December.
As well as thousands of ceramics produced by Josiah Wedgwood, one of the world's greatest pottery manufacturers, the museum, which re-opened in 2008 after major refurbishment, boasts an archive of more than 100,000 documents and manuscripts, and masterpieces by Stubbs, Romney and Reynolds. Such is the collection's historic significance that questions will be asked in parliament this month.
David Dawson, who was responsible for listing the museum on Unesco's Memory of the World Register, described the collection as "one of the most complete ceramic manufacturing archives in the world".
"The nation cannot afford the loss of this piece of its heritage," he said. "[The Wedgwood collection] was selected as one of just 20 items on the register, along with objects such as the Bill of Rights and a copy of King Charles I's death warrant."
The high court ruled that the collection was an asset of Waterford Wedgwood Potteries, which went bust in 2009, and could therefore be sold to pay off their creditors, the largest of which is the Pension Protection Fund.
The ruling was an unintended consequence of legislation to protect employee pensions after the Robert Maxwell scandal of the 1990s.The museum had not been linked to the company for almost half a century but has been penalised because five of its employees were part of the Pottery Group Pension Plan's member scheme.
An early day motion tabled by Tristram Hunt, the historian and MP for Stoke-on-Trent Central, expresses grave concern. It condemns the legislation as in need of urgent amendment and urges the government to save the collection. The Tory peer Lord Flight has also tabled an question in the Lords for 14 February.
The museum was founded by a family known for its altruism. Simon Wedgwood, one of Josiah's descendants, told the Guardian the museum held unequalled correspondence from Industrial Revolution figures over 250 years.
"The loss to the nation and the world would be incalculable," said Wedgwood. "It is tragic that recent legislation can mean that the assets of a bona fide museum can effectively be seized by the Pension Protection Fund because of such a tenuous link through a handful of employees."
Martin Levy, the London dealer and former member of the Reviewing Committee on the Export of Works of Art, said that the collection's sale would plug only a fraction of the £134m black hole: "A small gain for the pensioners will be a long-term loss for the country – no more than a pyrrhic victory."
Article source: http://www.guardian.co.uk/culture/2012/feb/05/wedgwood-museum-closure-condemned-unesco